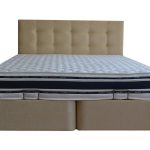 Saltea Super Lux Ortopedic Royal Flex Mob 90×200
Availability:
In stoc furnizor
cm
26
kg
105
ani
3

COMANDA TELEFONIC 0732 13 77 77 | 0732 14 77 77 | 0721 00 77 77
Fast Delivery
Delivery in maximum 48h to the products in stock
National Coverage
Nation wide delivery at over 5500 locations
Expert in mattresses
Over 45,000 satisfied customers
Description
Saltelele Super Lux Ortopedic Royal Flex Mobsunt saltele superortopedice, cu sprijin bun pentru coloana vertebrala. destinate persoanelor ce doresc un suport ferm (tare), dar in acelasi timp comod datorita sistemului de matlasaj. Este recomandata in acelasi timp si persoanelor cu dureri minore de spate (fara afectiuni permanente).
Structura interna este realizata pe arcuri tip Bonell (sarma otel carbon tratata electric pentru a impiedica deformarile) interconectate. Aceste arcuri sunt acoperite cu o placa/feltru, peste care este aplicat un rulou de poliuretan. Intre fiecare rand de arcuri este introdusa o placa de poliuretan. Acesta modalitate asigura un suport ferm, o rezistenta mare in timp a structurii (deformari) si un efect redus de "val" la miscarile partenerilor (mai mic de 8%).
Comfortul este asigurat de rulourile de poliuretan successive si de matlasajul materialului de acoperire. Acest material este matase Jakard in amestec cu bumbac matlasat, cu un strat de material siliconat, pe un suport de burete poros, ce permite trecerea aerului, avand o structura de fibra moale si fina creand o senzatie foarte placuta la atingere.
Salteaua are o inaltime de 26 cm ceea ce in permite sa fie folosita pe orice structura de pat, avand aceleasi performante pe support placa PAL, sau lemn masiv, sau din lamele (somiera).
Structura de fabricatie:
Plasa de arcuri tip Bonell din sarma otel-carbon de 2.2 mm cu 5 spire (104 arcuri/mp)
Placi de poliuretan cu grosimea de 5 cm inserate intre fiecare rand de arcuri tip Bonell pentru o structura mai rigida
Strat de pasla cu densitatea de 1000 gr/mp
Rulou de poliuretan cu grosimea de 3 cm si densitatea de 21 kg/mc
Margine antilasare din placa de poliuretan cu grosimea de 6 cm si densitatea de 35 kg/mc
Exterior imbracat cu matase Jakard in amestec cu bumbac matlasat cu material siliconat cu densitatea de 100 g/mp pe un strat de poliuretan poros cu grosimea de 1 cm
Banda tridimensionala de jur imprejur, ce asigura aerisirea interna a saltelei
Saltelele Superortopedice Lux au doua fete, de vara si de iarna.
Inaltimea saltelei este de 26 de cm.
Tot ansamblul este tratat impotriva mucegaiului si acarienilor
Share your thoughts!
Let us know what you think...