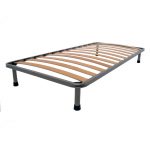 Somiera metalica fixa STANDARD 160×200 cm
Livrare in 48h, GRATUIT in Bucuresti (produsele in stoc).
Livrare in 72h, contra cost, in toata tara (produsele in stoc).
COMANDA TELEFONIC 0732 13 77 77 | 0732 14 77 77 | 0721 00 77 77
Fast Delivery
Delivery in maximum 48h to the products in stock
National Coverage
Nation wide delivery at over 5500 locations
Expert in mattresses
Over 45,000 satisfied customers
Description
Somiera fixa metalica Standard, cu dimensiunea de 160×200 cm, ofera un suport perfect pentru noua ta saltea. O saltea folosita fara somiera metalica se va strica mult mai repede si se va lasa.
Cadru Metalic din teava patrata cu dimensiune 30×30 mm
Picioare din teava patrata;
Dimensiuni picioare: 3 x 3 x 24 cm (L x l x H)
Elemente de consolidare din profil metalic;
Sipci din furnir elastic cu grosimea de 5 cm, presat in 7 straturi
Se recomanda folosirea somierei intr-o baza de pat.
Share your thoughts!
Let us know what you think...